MOSS Program
From Concepts to Real World Experiences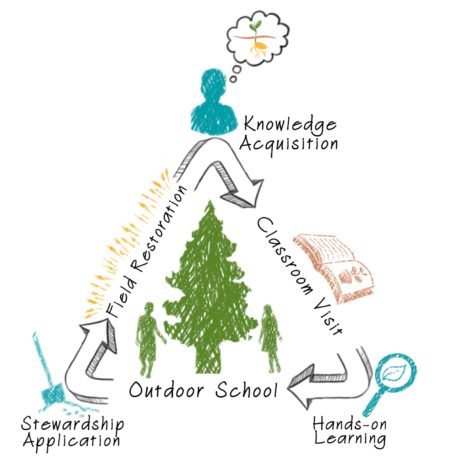 Through a uniquely comprehensive approach that combines classroom, hands-on outdoor learning, and community engagement, Exploring New Horizon's Meaningful Outdoor Science and Stewardship (MOSS) program provides wrap-around environmental science education and stewardship opportunities that foster appreciation for the environment and the sciences.
Before attending one of our outdoor schools, our program coordinators visit each class to introduce students to some of the basic concepts in our programmatic framework along with the hands-on activities that they can expect during their immersive experience both with Exploring New Horizons and later in their MOSS community engagement work.
During their week at outdoor school, students receive lessons on restoration ecology, field science skills, landscape restoration, team building and community service. This curriculum reinforces the themes, concepts and learning objectives we introduced in the classroom as they see first-hand the real-life application of science on the trail.
Following their outdoor school experience, students participate in a local restoration effort in partnership with local nonprofit organizations like Save the Bay. This experience then solidifies what they've learned both in the classroom and at our outdoor school through applied restoration in their own community.
Empowering Students and Teachers Alike
At the end of this program pilot year, we found that students who participated in MOSS reported an increase in the likelihood that they would participate in future community restoration events. They also demonstrated an increased likelihood of sharing their environmental knowledge and stewardship practices with their friends and families! And participating teachers reported a noticeable increase in student enthusiasm for and mastery of the material.
Fostering Young Stewards
In today's world, it's easy to despair that the many environmental crises facing our society are simply insurmountable. But as our work continually demonstrates, when provided with reoccurring, meaningful and extended opportunities to get outside, youth not only shift their comfort with the natural world but also develop a deep passion for protecting natural resources.
Seeing that spark come to life within each child is what drives us to continually improve and expand our programs. As we look to the future of our regional partnerships, we hope to bring the MOSS program to the schools we serve in Contra Costa and Alameda counties.